Let's not forget the inexpensive, but oh so good! everyday wines. For me a trustworthy "workhorse" (pun intended) has for ten years been the Asinoi, meaning 'we are donkeys', by many around here simply called "the Donkey wine", because of its label.
In a market like the one in my country -Norway that is- many barberas were sweet, oaky, and not much fun. This one was different, more slender, elegant, fruity, natural, and a lot better with food too. So no wonder it soon found many followers.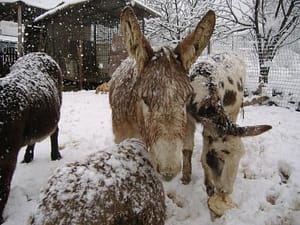 Donkeys at Carussin
The producer is Carussin, Bruna Ferro and Luigi Garberoglio with their family, and the farm is located in San Marzano Oliveto, south of Asti in Piemonte.
The producer has many interesting wines, but to be honest I'm not sure if this particular one is found to any extent outside Norway, where their importer Non Dos is a good customer and collaborator.
The farming is biodynamic. The grapes are hand-picked, and fermentation is spontaneous. Only a tiny amount of sulphur is added before bottling. All ageing is carried out in steel, and sometimes cement.
Ruby red. Fruity aroma of cherries, other red berries and herbs. Mellow, juicy in the mouth, low in tannin, but with a clear and fine-tuned acidity.
Price: Low
Food: Pasta, pizza, light meat, white fish (!), vegetables, and a variety of cheeses. I must admit (although it's against my principles, I think) that I've had this wine without food at all, and with a lot of joy.
Leave a Comment