Raw Wine is ever expanding and has finally come to Scandinavia. Last Sunday some 180 artisans from all over the world was gathered in the conference center The Plant in Amager Øst, Copenhagen. There were three seminars, of which I participated in one (about wines from Castilla y León, read a note here). In the days leading up to the festival there were also tastings and other events collected under #rawwineweek, of which I also participated in the biggest of the additional tastings (see a report from Café Josephine here).
With 180 producers it's obvious that I couldn't taste everything. This time I rambled around with no special plan, except I wanted to talk to some that I didn't know before, some that I knew a little, and of course say hello to some good friends.
My readers might not know that I have a history in Peru. But I have, and my daughter is half Peruvian. Some years ago I visited the region of Ica. It was exciting to know that there is now a natural wine producer right in the desert. The people of Peru knows that it's their country, not neighbouring Chile, that is the cradle of pisco. The old harbour of Pisco is located right there, only 75 kilometers from Ica, and both are located south of Lima.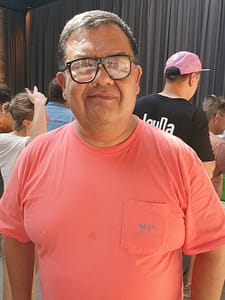 Pepe Moquillaza is also a pisco maker and has done a great job recuperating quebranta grapes for pisco production. Now he is rescuing Peruvian clay vessels (also called piscos, or botijas) for natural wine making. In Copenhagen I tasted two of his maritime desert wines. The first one was Mimo Italia Quebranta 2020 (italia, local name for moscatel de alejandría, and quebranta in equal proportions), organically and biodynamically farmed, with two years of skin-contact, not sulphured, aged in old oak, unfined and unfiltered. It's a light amber coloured wine with good volume, a grapey character and also good acidity. Albita de Ihuanco 2019 is a blend of albilla (local name for palomino) and italia. It combines the minerality of albilla with the flowery scent of moscatel. It's yellow in colour, and has good volume in the mouth, with some tannin and a lot of fruit. Like the previous wine it has almost zero sugar and a moderate 12% alcohol. The length of the skin-contact is here two months.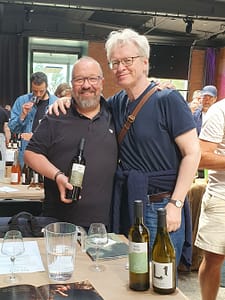 Lanfranco Fossà was there on behalf of Davide Spillare, who lends his name to the labels. I met them both when I visited the important village of Gambellara in Veneto five years ago, and it was nice to catch up. (Here you can read about that visit, with more background.) The wines are fresh and lively, and quite light in body. As if some extra freshness is needed, the L1 Frizzante 2021 sparkler has a small percentage of durella to give an extra boost. Bianco Rugoli 2016 comes from an 85 year old vineyard with volcanic soil, with bushes trained in pergola. The nose is complex with mature apples, wax and aromatic herbs, good acidity and a salty mineral finish.
A relatively new discovery is Bianka und Daniel Schmitt of Rheinhessen. During the last couple of years I have tasted several impressive wines, from the entry-level 1 litre bottles of Frei. Körper. Kultur. and upwards. It was then lovely to be able to meet Bianka in Copenhagen. These wines are fresh, tasty and truly inspiring. Here we tasted rieslings, like the flowery, red appley, quince and honey scented Riesling M 2018 and the flor-aged Voodoo Doll 2020. There's no evil behind the appropriate black label; it is floral on the nose, with almonds, herbs and a touch of tropical fruit. Of the reds I will mention two; first the elegant Spätburgunder 2018, with its generous raspberry, complemented with flowers, green peppers and an interesting hint of coffee. Kékfrankos is the Hungarian name for blaufränkisch, that the Schmitt family brought over from there. Now in its 2021 vintage it's medium-bodied and in a way light, but it's also wonderfully complex, smells of blueberry, morello, herbs and a touch of coffee, it's luscious in the mouth with soft tannins, an agreeable acidity and a pleasant bitterness in the finish.
Philippe Lancelot is a natural wine classic within Champagne. The estate was created by his parents who both inherited some vineyards, then bought new ones together. Philippe had introduced biodynamic practise for all vineyards by 2012. He wants to express the individuality of each cru and village, almost always completely dry and in most cases without any added sulphur. He showed five magnificent wines, among them Le Fond du Bâteau 2018, from the lieu-dit (named vineyard) of the same name in the surroundings of Choully, a grand cru village in Côte des Blancs. 100% chardonnay, no dosage and zero added sulphites. Light golden, aroma of green apples, citrus, chalk and brioche, concentrated, mineral, long, pure. The oldest wine he presented was Les Bas des Saran 2014, also pure chardonnay, with no additions. This one comes from four lieux-dits in the grand cru villages, among them Cramant (his home village). It's vinified in oak barrels and vats, and spent 5 years in the cellars before launch. It has a discreet floral nose, more expressive citrus, brioche, in the mouth it has a dry and tense attack but develops both creamy and fruity.
Château Meylet is another natural wine venture from a classic place. They are also biodynamic since 1987. David Favard runs the family estate, that due to its location in St. Emilion has a high percentage of merlot plants, but also cabernet franc, cabernet sauvignon, malbec and petit verdot. Cuvée Baiser d'Ange 2021 is an interesting orange wine from semillon, made with 15 days skin-contact in amphora. Yellow colour, rich with a sweetish sensation. Château Meylet 2019 showed that the reds have some oakiness at an early stage. Luckily there are aged wines then. The 2003, made by David's father, has stood the test of time. Red with brick rim; red and dark fruits, some tobacco and spice; fine tannins and well-balanced, a raisiny touch also.
Mas de la Lune is located in the Agly valley, Côtes du Roussillon. In schist and granite soils grow varieties also known from the Spanish side, all of them 70-90 years old. Vanessa Courtay showed me a handful of wines in several colours. I am not sure which vintage I tasted of Le Second Souffle; I think it might be 2022, although it then would barely have the time to stay the 9 months with skin-contact that Vanessa told me it had. Anyway it had also little colour for that amount of time. It's made of macabeu and tastes of wax, flowers and yellow apples, with a structure that more than the colour tells about the prolonged time on skins.
I will soon go on a trip to Bobal country in mid-south-east Spain. A perfect introduction was then to visit the table of Altolandon, from the Cuenca part of DO Manchuela. The property lies up to 1.100 meters, that makes a slow maturation and a fresh acidity possible. Carmen Sebastián and winemaker Rosalía Molina showed me several wines as proof of this. Milhistorias Bobal 2020 has a bright red-blueish colour; red and black fruits on the nose with flowers and herbs; it's fresh and fruity, very much alive and with a super acidity.
When I was about to call it a day and leave I stumbled upon Nacho León of Demencia Wine. He is located in Villafranca del Bierzo, and the name points to mencía, the most important grape in the area. The wines come in an expressive style, with good fruit and firm tannins. Fuente de San Lázaro 2019 comes from 115 year old vines in a variety of soils and is made in old wood. It shows red and black fruits, herbs and am earthy touch; in the mouth it has the firm tannins, and also a lot of freshness. Villegas 2019 comes from sandy and clayey soils and is also made in old wood. Ripe red and black fruits, herbs, a toasted note; the tannins are firm and there is some coffee and a touch bitterness in the end.
A highlight was indeed the veggie pita served by Jakobsen's Pita. Not least because I met Ismael Gozalo, that gave me a sip of his magnificent Frágil 2021, a glass-raised verdejo, just in time to enjoy it with the pita. And of course, interviewing Isabelle Légeron MW for Vinforum magazine, in a story about the Raw Fair itself. When it's published I may port a short version of it here.
Leave a Comment