Finally I managed to visit P Franco in the Clapton area of East London. It's small, I don't know if the workers find it functional. But there is one big table in the middle of the room, so I found it cosy and social. How nice isn't it to be surrounded by so many good bottles; used bottles from the bar, and bottles from the shop waiting to get a new owner.
The owners also have other venues in town, like the Bright and the Peg. There is always something interesting going on, and many are the guest chefs that have been visiting.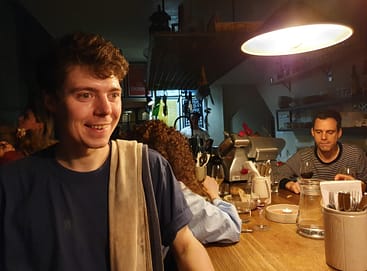 This night I had been in Hackney, and just popped in. No problem to find a place by their one central table.
I had three wines, and I let Daniel and the others decide. For every wine I got the choice between two or three, so it turned into an interesting tasting also.
I tasted, among other wines, a very good natural verdicchio, Terre Silvale 2018 from La Distesa di Corrado Dottori from the Marche, an unfiltered Grüner 2018 from Arndorfer, and A toi nous 2018, from Andrea Calek, a Czech in the Ardeche.
For this post I chose the Silvaner pét nat from 2 Naturkinder of Franken. They have a small production from 30 years old vines on shell limestone by the river Main in Bavaria. The grapes are hand harvested and left as whole clusters. The bunches ferment in stainless steel for two weeks without temperature control. Then the bunches are pressed, and the wine finishes the fermentation in bottle. It was bottled with close to 10 grams residual sugar and the pressure became 2.2 bars. The alcohol is low at 11%, and as for the total SO2 (nothing added) it's as little as 4 mg/L.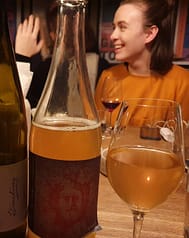 Silvaner Pét nat 2018 (2 Naturkinder)
Orange/brown, slightly turbid. Aroma of yellow apples, white flowers and herbs. Yeasty, with a creamy mousse, grapefruity, with a nicely integrated acidity.
Price: Medium
Food: I had it with "Smoked ivory cauliflower, cacao flower and horseradish" at P Franco, but it should tackle a lot of dishes; white fish, smoked fish, charcuterie, lightly spiced Asian…
Leave a Comment