I have just come back from the Simplesmente Vinho fair in Porto, where João Roseira is chief organizer. This year I chose to visit some wineries of the Douro valley after the fair, Roseira's own Quinta do Infantado among them. While João has handed down the enology responsibilities to 6h generation, his nephew Álvaro, he is still in charge of viticulture.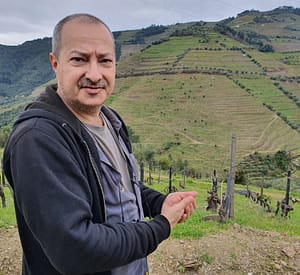 Infantado has a long history; and celebrated their first 200 years in 2016. Yet they are in many ways in the avant-garde. They were the first producer to break the monopoly of the négociants in Vila Nova de Gaia, by starting to bottle in the Douro valley in 1979 and export directly from there in 1986.
They have 46 hectares in the Covas de Douro, 4 km from Pinhão. 12 of these are organically grown, the rest is sustainable viticulture. This ruby is sourced from three vineyards called Pousado, Barreiro and Serra Douro, that cover 6 hectares on schist soil at an altitude of 250-350 meters. It is made from grape varieties touriga franca, tinta roriz and touriga nacional, as well as an old field blend that makes up 5%. There are three vintages blended together here, 2016, '17 and '18.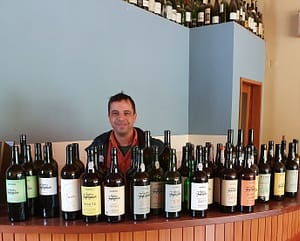 At Infantado the ports ferment longer than usual, so at an earlier stage there is less residual sugar and more alcohol. Therefore less addition is needed, and the brandy is added gradually. Consecuently the ports tend to have a natural appearance, and both sugar and alcohol are nicely balanced with the fruit. This is also the case with their Reserva Ruby. It has around 50 grams of residual sugar, and carries the term "meio-seco" (medium dry) on the label. Also unlikely for a ruby, it was bottled unfiltered.
Reserva Ruby (Quinta do Infantado)
Deep red, violet edge. Smells of blackcurrant and blackberry with plums, with notes of eucalyptus and aromatic herbs and flowers. It's fresh for a port, nicely balanced, showing both elegance and refinement.
Price: Medium
Leave a Comment