I had two wines from Bodegas Frontonio at a tasting this week. They are found in Valdejalón, a non-DO area within a triangle formed by Campo de Borja, Calatauyd and Cariñena – and not far from Zaragoza, capital of Aragón. It comprises the area around Jalón, a tributary to the Ebro river.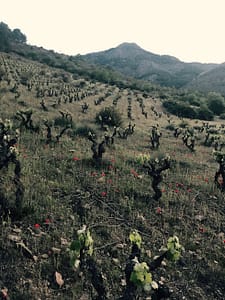 (Credit: B. Frontonio)
The people behind the Frontonio project are Fernando Mora (one of Spain's new Masters of Wine, who started to make his own wine in 2008) and his friends Francisco Latasa and Mario López.
On their website they refer to a local legend from the Roman times, when the head of patron saint Frontonio was thrown into the Ebro near Zaragoza, but later found upstream along the banks of the Jalón in Épila, the village where they are located. They compare this tale to their own story, suggesting that these "garage wines", made in very small quantities (now 6.000 bottles), are something of a miracle and a result of going against the stream.
Miracle or not, the wines are excellent. Today they have several lines, such as an entry-level range and some single vinyard wines. Microcósmico are their village wines, blended from two or more vineyards. The garnacha has the power and the earthiness of the region, but it's also very fresh and inviting. This macabeo is made from old vines on a rocky soil. The whole area is chalky with a layer of clay to retain the humidity from the sparse rainfall. There is both continental and mediterranean influence, as the winds shift between coming north-west or south-east in the Ebro depression, but generally speaking this is a hot and dry land. The macabeo is made from 65 year old plants, spontaneously fermented, partly in oak, but mostly in concrete.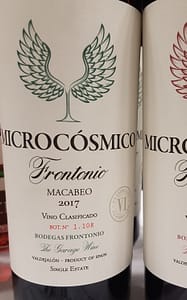 Microcósmico Macabeo 2017 (Bodegas Frontonio)
Light yellow with a greenish hint. Aroma of white flowers and citrus, backed by ginger and a touch of smoke. Great concentration on the palate, an acidity that adds to the structure and a long, dry finish.
Price: Medium
Food: Grilled fish, bacalao, tasty seafood, light meat, salads and vegetables (must be delicious with local 'piquillo' peppers in olive oil), a variety of cheeses
Leave a Comment