Time to celebrate. Maybe not the year that lie behind us, but rather a toast to life, art and good wine itself. There are many possibilities; champagne, crémants, cava… Cava? All right, listen.
Agustí Torello Roca (AT Roca) belongs to the family that gave us Kripta and other great great cavas and wines from Sant Sadurní d'Anoia. While Agustí Torelló Mata (ATM) has turned to organics AT Roca goes further; with a more natural approach, and has also joined the ranks of those who leave the very strange DO Cava, that in reality stands for a way of making wine rather than a sense of place.
Agustí Torello Roca and his father and aunt Agustí and Lali founded AT Roca in 2013. One of the first priorities was to join DO Classic Penedès, a subdivision under the DO Penedès formed in 2012. It started with just 10 members, and has been growing ever since. DO Classic Penedès is perhaps the first governing body that requires organic certification in order to be a member. In addition to the farming requirements, 15 months aging on the lees is the minimum (while only 9 months within DO Cava), and all wines must be made by the traditional method and vintage dated. AT Roca goes further by only using indigenous yeasts and harvesting 100% of their grapes by hand.
For their single vineyard wines, they ferment in used barrels and age the wines on the lees under natural cork instead of crown caps, both of which are rarities in the region. Sulfur is only used once to block malolactic as an effort to retain the acidity. All their wines are zero dosage. They only work with indigenous Catalan grape varieties, with a focus on macabeu.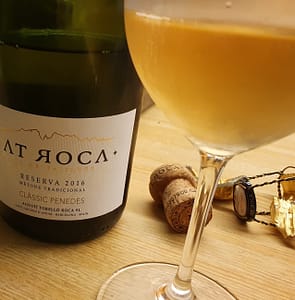 AT Roca Reserva 2016 (AT Roca)
Yellow with greenish hints. Aroma of fennel, lime, breadcrumbs. Good body and concentration, nice acidity, and a salty dry finish.
Price: Medium
Food: Good Spanish ham, light meat, salads, dried fish and tasty shellfish
Leave a Comment