Our local wine club featured Sekt, sparkling wines from Germany, the other day. The tasting showed an overall good quality-price ratio, I would say better than the tasting of spätburgunders a couple of months ago. There are four categories of German sparklers, from the basic Sekt, where the grapes can be of shopped around Europe, narrowing down to Winzersekt, where a smaller manufacturer owns the grapes himself.
Among the best, and also with a very good price, was this one. Raumland is a specialist located in Rheinhessen, with facilities for making sparkling wines offered to several famous German producers. All their vineyards are worked organically, and their sekts are normally fermented out dry.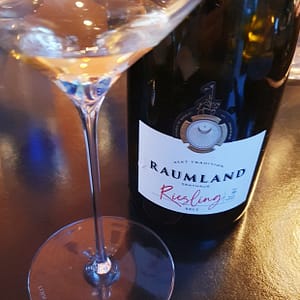 Riesling Brut 2018 (Sekthaus Raumland)
Light yellow colour, fine bubbles (small mousse). Aromatic, green apples and lime, hint of bakery (after 36 months on the lees). Mellow entry, with apricot, a citrussy acidity grows in the mouth, it's complex, it's crisp and energetic, and it finishes off dry.
When the Suez Canal was opened in 1869 wine from Reichtsrat von Buhl was offered for the celebration. This cuvée is named to honour the occasion, 150 years later. Organically grown riesling grapes were harvested manually. The base wine was fermented in stainless steel and in tonneaux, followed by a traditional bottle fermentation on the lees for 40 months.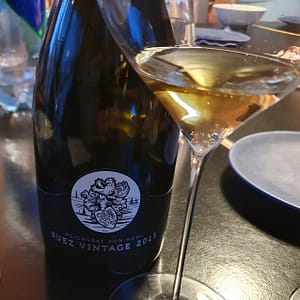 Suez Riesling Brut Nature 2015 (Reichtsrat von Buhl)
Light yellow, small mousse. Yellow fruit, mature apples, brioche notes. Full in the mouth, creamy texture, integrated acidity and a long finish. Mature style, elegant.
Sven Leiner's domaine is located in Southern Pfalz. It consists of 15 hectares of vineyards, that he runs organically with biodynamic methods (and certification). Only a little sulfur is added to the wines before bottling, and no filtration is done. Some key words: Spätburgunder with chardonnay, age of wines 60-70 years, grapes harvested manually, fermented and matured in big oak vats and cement. I guess it's assembled from three vintages corresponding with the numbers on the label.
Leiner Brut Nature (Weingut Leiner)
This wine lived up to the natural wines' reputation of being living things, as it changed "colours" several times, from closed and square to open and well-assembled. In the beginning it showed a slight mousiness, but the day after (you see, this bottle I smuggled home after the tasting) it was clean and cutting.
Let's try to assemble the many impressions: Light with very little bubbles. Aroma of ripe apples, some nuttiness and a stony minerality. Full in the mouth, a rich texture, and a fine mousse on the palate, integrated acidity, quite concentrated and long.
Leave a Comment