After having heard about a "band" of winemakers calling themselves "punks" last week, let's move on to the tale about former punk bassist Taras Ochota, who together with his partner Amber decided to form a winery in the Adelaide Hills of South Australia. They got the idea for a holistic project on a surf trip to Mexico, they say, after having seen some of the most amazing wine and surf regions there are.
Before this happened he worked as a flying winemaker, or a consultant, for a number of European producers, mainly in southern Italy, but also as an expert in the field for a Swedish importer. Amber also worked both in Italy and for a winery in Skåne, southern Sweden at a time.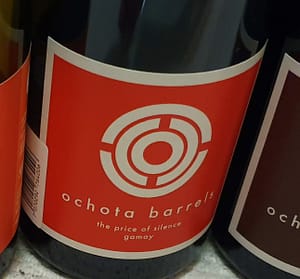 This is an artisan project, with great attention to detail. The biodynamic approach they came across in the south of France. And they strongly believe that the most energetic and vital wines come from "organically farmed vineyards planted to earth that is alive, lo-fi technique and picking decisions made purely on natural acidity". Texture is also an important focus, manipulating mouth-feel with limited or extended time on skins including batonnage. They experiment with low sulphur levels to find the perfect level to suit each cuvee.
The Price of Silence is a varietal gamay made with whole cluster fermentation, unfiltered.

The Price of Silence 2019 (Ochota Barrels)
Light red, some blue towards rim. Fresh aroma of cherries, plums and some pepper. Full and juicy in the mouth, but also with some tannin and a natural acidity.
Price: Medium
Leave a Comment