At Raw Wine Copenhagen I met Philippe Lancelot, maker of natural wine in Champagne. The estate was created by his parents who both inherited some vineyards, then bought new ones together. Philippe had introduced biodynamic practise for all vineyards by 2012. He wants to express the individuality of each cru and village, almost always completely dry and in most cases without any added sulphur. He showed five magnificent wines, among them Le Fond du Bâteau 2018, from the lieu-dit (named vineyard) of the same name in the surroundings of Choully, a grand cru village in Côte des Blancs. 100% chardonnay, no dosage and zero added sulphites. Light golden, aroma of green apples, citrus, chalk and brioche, concentrated, mineral, long, pure.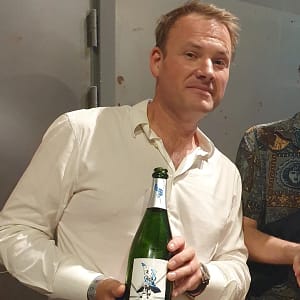 The oldest wine he presented was the 2014 vintage of Les Bas des Saran 2014, also pure chardonnay, with no additions. This one comes from four lieux-dits of various grand cru villages, among them Cramant (his home village). It's vinified in oak barrels and vats, and spent 5 years in the cellars before launch.
Les Bas des Saran 2014 (Phillipe Lancelot)
Light yellow. Discreet floral nose, expressive citrus, brioche. In the mouth it has a dry and tense attack, but develops both creamy and fruity. Concentrated, long, salty.
Price: High
Leave a Comment