We continue to explore the parajes of Bierzo, a denomination that sets the standard in Spanish wine.
La Cova de la Raposa was the first plot developed by pioneer Raúl Pérez. It is a southfacing 0,2 hectare paraje with 6 owners, located in the outskirts of Valtuille. The soil is sandy and somewhat clayey with steep slopes. Some of the vines are over 100 years old. This paraje is known for making mineral wines.
The producer here is Castro Ventosa, which is Raúl Pérez' family bodega, and where his nephew César Márquez is also involved in the winemaking.
Mencía is here complemented by 10% garnacha tintorera and 5% others. The harvest was manual. It is often the first plot to be harvested in Bierzo. Whole grapes were deposited in open 500-litre barrels. Fermentation was carried out naturally without adding yeast and without temperature control. The wine macerated inside the barrels for 60 days, soaking the hat once a day by gravity, without the intervention of pumps. Then it was taken out, pressed, and the wine was resting for a couple of months. It was aged 12 months in used 500 liter barrels (as opposed to 225 liters in the past).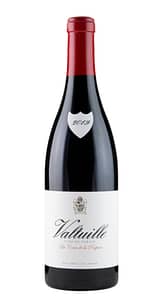 La Cova de Raposa 2019 (Castro Ventosa)
Dark cherry. Open, aromatic and concentrated, with red and dark fruits (cherry, raspberry, blackberry), mineral notes. Medium-bodied, with fine tannins, earthy hints and a marked acidity.
Price: Medium
Leave a Comment