Miguel Valdespino gave me this wine. He became the last Valdespino in the centuries-old company. His two children did not want a career in wine, so he chose -quite surprisingly for me and to many others who followed sherry closely at the time- to sell to José Estévez.
Surprisingly, because Estévez had been more known as a business man than a sherry 'aficionado', and furthermore he was involved in the infamous RUMASA fraud.
Valdespino is for me the ultimate sherry producer from the old times. They had unbelievable stocks of treasures in their cellars. And a moscatel from three casks was released a few years ago to a 100 points ovation from American media. But Valdespino was also forward-thinking, and the first producer to mention the vineyard and the 'pago' (denotes a larger area) on a label, the fino Inocente from the vineyard of the same name in pago Macharnudo Alto.
Some fifteen years after the first removal of the cork the bottle looked like this
I know this is personal, but never mind: I had visited Miguel Valdespino several times as a journalist and lover of great sherry, and he gave me this bottle some 20-25 years ago. I don't know all the details. But he told that it had participated in the Paris 1889 world exhibition (the one that celebrated 100 years since the revolution), "then as an old wine", to quote the master. At the time I got it the wine was bottled from a big barrel, a 'tonel' with the letters 'NO', denoting that it must not be touched. It was clearly not meant for sale, and Miguel put on a provisional label with the company name, and with a name Pedro Ximénez Tonel written by a typewriter of that time. At that particular time I was visiting with my now former wife. When we parted around 15 years ago we talked about sharing this wine, so I pulled the cork. Suddenly I (as I would say) came to my senses thinking 'this is wrong'. So I pushed the cork back into the bottle. And I admit that until today I have been unsure what happened to the wine when it was exposed to air some 15 years ago.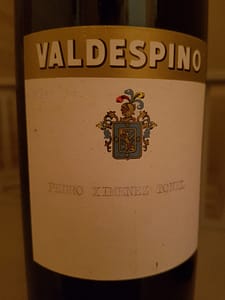 What do we know for sure about the wine then? It's made from the pedro ximénez grape variety. It participated at in Paris 1889. Before that it might have been born in a solera, but I'm not completely sure. Valdespino was a leading company at that time too, so it's very unlikely that the wine was less than 30 years old, I would say probably a lot more. I think it must have been born some time between 1820 and 1850.
All right, this wine does not exist commercially, and it probably never did. But I call it:
Pedro Ximénez Tonel (A.R. Valdespino)
Unctous, thickly flowing wine, motor oil consistency, with dense curtains ('cortinas' in Spanish), dark raisiny brown/mahogany with evident green notes (like all very old px sherries).
Aroma of toasted hazelnuts, nutmeg, prunes, figs, coffee and dark chocolate, but also flowers and more delicate fruits (in direction of yellow tomatoes, plums, mango).
Very sweet and concentrated, but somehow also fresh with an rich resonance and great length.
In my opinion it's unfair and devaluating to a wine like this to reduce it to points and punctuations, figures and numbers. A Portuguese writer once likened a wine to a cathedral. In the same tradition we could say that this wine evokes images from the ancient times and the soldier that the pedro ximénez grape took its name from. And it's easy to imagine the 'alcázares' and the basílica churches of Jerez de la Frontera, and the sun rising over the ancient Valdespino bodega in that narrow street of the old gypsy quarter of Santiago, right in the heart of town.
Price: Priceless
Food: A variety of desserts, such as cakes and cookies, puddings, nuts, cheeses, and even a small sip is something of a meal in itself
Leave a Comment