Frenchman Olivier Rivière has formerly worked with well-known Telmo Rodríguez. He came in 2004 to help converting the vineyards into biodynamic agriculture. But he liked Rioja so much that he decided to stay, and has since long bought grapes and made wines for himself. At the moment he makes wines from Rioja, Arlanza and Navarra. It is at the facilities of Bodegas Lacus in Aldeanueva de Ebro (Rioja Baja), where he is consulting, that he makes his wines.
He uses fermentation tanks of cement and oak (from 2,000 to 5,000 litres). The reds are often fermented with stems. In Rioja he sources his grapes from several areas. This wine Ganko, a blend of garnacha and mazuelo, comes from Cárdenas in Najerilla valley, on the right bank of the Ebro river. The vines are high altitude, old vines on sandy soils.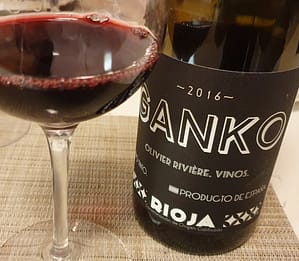 Ganko 2016 (Olivier Rivière)
Dark cherry red. Fresh and intense aroma of dark berries (blackberry), plums, and a balsamic touch. Concentrated, a lot of tannins, but rounded off, a sense of coolness in the fruit, long.
Price: Medium
Leave a Comment