This is the tallest skyscraper of Nieva York in the ResPublic of Verdejo. In fact this one has a twin tower, because the white version has already been there for some years.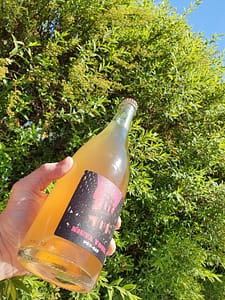 I have written about Ismael Gozalo and his wines several times, so I will not repeat the whole story. But in short, he comes from a family of vintners in the small settlement of Nieva (Segovia province), one of the highest in altitude in the Rueda area. So he has taken the verdejo variety to new heights, but he also makes wine from red varieties such as such as mencía from Bierzo, garnacha from Gredos, and rufete from Sierra de Salamanca. (You can read here about some of the reds, and here about some whites).
This pét-nat is made from 90% tempranillo planted in the 1990's on slate, and 10% verdejo, from the more than a century old ungrafted vines on sand and clay. It's an early harvest wine, fermented at a cool temperature to keep the turbidity down. The alcoholic fermentation is finished inside the bottle. After a few months in the bottle the lees are removed, and the bottle is filled up with dry wine from the same lot. No sulphur added.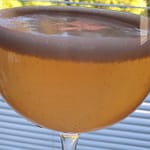 Nieva York Pét-Nat Rosé 2018 (Ismael Gozalo)
Peach coloured, bubbly. Also peach on the nose, together with white flowers and wild strawberry. Luscious fruit, but also with a nice acidity, some texture (feels like citrus peel, such as clementine) concentration and length. Citing the back label: Good bubbles = good moments!!!
Price: Medium
Food: Excellent on its own, try with all kinds of salads, tapas from "ensaladilla rusa" to charcuterie, pizza, light meat…
1 Comment