It might not at first right look like a vegan friendly wine. But the back label says so, and there is little about this wine that should be harmful. Or rather: The answer to this should be given by the vegans themselves. Fellow Burgenland producer Meinklang has become popular in several markets with labels showing their dear cows and oxen.
Anyway, Hans Schwarz was as a master butcher before he decided to found his own winery around 20 years ago. Now he has established a reputation of making honest wines according to local traditions, without thinking about what trends are going on internationally. His son Michael has also been involved in the work, and is now effectively the winemaker of the house.
Before establishing the winery in 1999 Hans Schwarz sold grapes to the area's top producers, including top dessert wine producer Alois Kracher. The geographical location of their vineyards are more precisely Andau, Neusiedlersee and St. Georgen am Leithagebirge. They sit on different types of soil such as shale, lime and sand, silt and clay. Zweigelt is the most important grape variety of their 12 hectare vineyard.
The wines undergo natural fermentation in neutral barrels or in steel tanks to preserve the fruit quality. This one in particular was fermented in steel with two weeks maceration and aged one year in old barriques.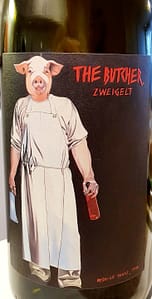 The Butcher Zweigelt 2020 (Schwarz Weine)
Dark ruby garnet, violet reflections. Aroma of ripe plums, cherries, raspberry, flowers and a hint of licorice. Juicy in the mouth, with delicate tannin and fresh berry fruit.
Price: Low
Food: Salads, lightly spiced food, some Asian and (sorry, vegans out there) light meat, grilled fish, tasty shellfish such as crab.
Leave a Comment