Yesterday was that day again. The third Thursday of November I always await with excitement. I feel that nowadays the craze is gone, the hype is silenced, it's not that many people who talk about it as before. But the wines are better than ever. Well, the best wines might not be equally "sensational" as in the past few years (that means, the ones I have tasted, a few favourite producers and some wines I think I ought to try), but the overall quality is superb. Even if the wines are lovely now, there are a few that will drink well throughout the whole of next year.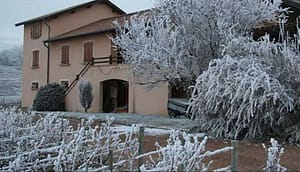 A novelty for me is the no sulfur added nouveau from Laurent Perrachon. I read that the producer is based outside Juliénas and harvests six appellations, among them Chénas, Fleurie and Saint Amour. Martine and Laurent are fifth generation, and the sixth is also involved in the family business. They claim to be the independant winemaker in Beaujolais with the most comprehensive list of crus.
This nouveau originates from 3 hectares with gamay with an average age of 45 years, pruned in Gobelet (bush vines) in crystalline soils. The grapes were picked manually, before a semi-carbonic maceration for 4 days. Always in stainless steel vats. Total production is 8.000 bottles.
Beaujolais Nouveau Sans Sufre 2023 (Laurent Perrachon)
Dark red colour. The aromatics consist mainly of dark and wild fruits like blackberry, but also has some cherry and a component of strawberries, sweet flowers, and a balsamic note behind. It's moderate on acidity, but compensates with a dense and generous fruit quality. It's lightly structured with fine tannins, quite full on the palate, and good length with a fruity finish. A possible crowdpleaser.
Price: Medium
Leave a Comment