Celestino Gaspari had worked with Valpolicella master Guiseppe Quintarelli, and married one of his daughters, before he set up his Zýmē winery in San Pietro in Cariano, in the heart of Valpolicella Classico. Celestino had also helped several others with various projects (among them Bertani, Santa Maria alla Pieve and Musella)  – and several wineries were born under his guidance (like Monte dall'Ora, also in San Pietro).
Zýmē was the name of his consultance agency, and became the name of his own winery, when he in 2003 started with 7 ha. on rent. Now there are 30 ha., where ecosustainability and respect for the rhythms of nature are vital aspects. Zýmē, from Greek, means "yeast." For Celestino this has a symbolic meaning as a continuous striving towards transformation. The logo represents a leaf, formed as a pentagon, which is a symbol of the five basic elements needed to make wine; soil, grapes, sun, water and man.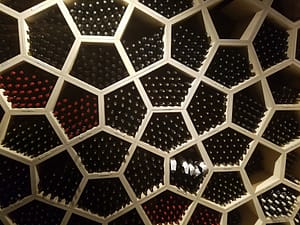 There were many good wines to chose from; Oseleta (a 100% varietal), Kairos (from 15 grapes, 4 white and 11 red), From Black to White (from a natural genetic mutation of Rondinella) and an Amarone Classico della Valpolicella on the dry, almost elegant side.
Still I chose the Recioto Amandorlato, a wine dedicated to the memory of Giuseppe "Bepi" Quintarelli, his father-in-law, who passed away in 2012. The wine was first presented at this year's VinItaly.
Celestino describes Recioto Amandorlato as a synthesis between traditional recioto and amarone. One could say a recioto with the lowest possible sugar residue.
Recioto della Valpolicella DOCG Classico 2011 Amandorlato "to my teacher …" (produced in 1,500 bottles of 0,5 l) is a blend of corvina and corvinone (60%), rondinella (30%), molinara (5%) and croatina (5%). After drying, the grapes were vinified in cement, then matured for 20 days in Slavonian oak barrels of between 350 and 500 l. In May 2017 it was bottled.
In the concrete tanks the temperature is natural, the yeast too, and there is very little movement of the must. The tumultuous fermentation stops due to the effect of sulfur, alcohol and residual sugar. Now the product is divided. Sugar tends to precipitate, so the first part removed is the one richest in sugar, the Recioto. The second part, in contact with the brandy, with less sugar, more organic substance and more extracted, becomes Amandorlato. (Then there is also Amarone Riserva.)
Recioto della Valpolicella Classico Amandorlato "al mio maestro…" 2011 (Zýmē)
Dark cherry colour. Ripe fruit (cherry, plum, blueberry), peppery spiciness, bitter almonds and a sweet component like ​​cocoa. Quite glyceric, with soft tannins, sweet (but not too sweet), and with a lingering finish.
Price: Medium
Food: Ripe cheeses, red meat, game
Leave a Comment