Gambellara is a small village at the foot of Monti Lessini in the western corner of the Vicenza province. To the west it borders Soave (Verona). It has a DOC for the whole area, a "classico" designation for wines with lower yields and higher alcohol, and a DOCG Recioto di Gambellara. The DOC is comprised of 4 municipalities, most important are Gambellara and Montebello.
When the prosecco boom took off, many of the grapes in the flatlands were replaced with the glera grape (formerly called prosecco). One of the results is that the general quality of Gambellara wine is extremely high, and as much as 60% of the grapes are grown in the hillsides.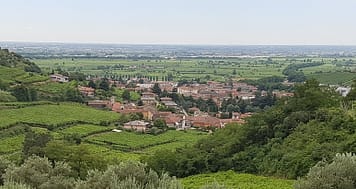 Gambellara village
In one day I visited three of the best, in or around Gambellara village, and maximum 5 minutes drive from each others.
Angiolino Maule – La Biancara
The most important of these is La Biancara, run by Angiolino Maule, who has been in the avant-garde of local and national natural wine movement and inspired many younger vintners. He founded the VinNatur organization in 2000 and leads the Villa Favorita natural wine fair held in Vicenza. The objective is to establish contact between collegues, to be able to support and learn from each others.  They are currently looking at the possibility of replacing copper and sulfur, widely used in organic farming, with plants and extracts that help vines build up resistance. Maule is now also studying the possibility to certify natural wines.
Most of Maule's wines though, come under the IgT Veneto designation, as Angiolino can be said to have a general mistrust in the Consorzio, and the wines are not regarded "typical" by the them either.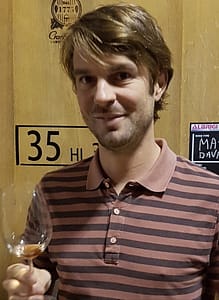 It's Francesco Maule, one of Angiolino's sons, who meets me on this warm summer morning. First we take a stroll through the vineyards and the estate, to get an overview. The soil of Gambellara is volcanic, with just a little limestone in the heights. This is easy to see from here.
Maule has approximately 12 hectares own vineyards on south facing slopes in these hills, about 150m to 250m above sea level. They are managed in a strictly organically way. They use naturally produced plant compost and control fungal diseases with herbal teas and other natural products. Contrary to tradition, here the predominant binding technique is the Guyot, but also some pergola.
Guyot up-binding
Here around the winery there are 5,5 ha. garganega grapes, many of them used in the Sassaia wine. Higher up, as the name implies, the grapes for the Pico are grown. There is also some trebbiano and durella, and merlot and others for the reds.
-At La Biancara we use modern technology, as we want to have control, at least "enough" control. To oxygenate we add air to the must. Fermentation starts by ifself, because of the hot weather. We may use the pied de cuve technique, 2 or 3 different ones, to see which one is best. It's important to have a fresh pied de cuve.[A short note: Pied de cuve is a technique that is often used for white wines. Some grapes are collected a week or so before the grapes are ready to be harvested. A small amount of this "stock" is then used to "kick-start" the fermentation, and helps to avoid any possibility of early oxidation.]
-After some years of "strange things" (high volatile, extreme skin-contact), some 10 years ago we decided to do some adjustments in the cellar, says Francesco. -We were lucky, as my father knew Josko Gravner (top Friuli producer with long experience in orange wines). He had also been making extremes wines, and then changed slightly. We also got some help from a retired enologist from Zonin (the region's big player, just down the road).
-Normally we don't add sulfites, only in the cheapest wines, that can have quite high volatile acidity.
We tasted a few wines together. And Francesco has nothing to hide, a sympathetic approach, as we start with their pét nat:
Garg'n'go 2017: In 2017 we have problems with re-fermentation, so here are practically no bubbles. That's the way it is with pét nat (natural pétillance/bubbles), when there is no nat pét, there is just one way to fix it: we have to wait. The colour is quite dark, with flavours of yellow apples, yeast, and good acidity from the durella grape (20%). We can imagine how it will be in good condition. -We have no tradition for bubbles, says Francesco. -My father never thought about it, but I love it, and it's easy to sell. Francesco fetches another bottle, that has a little more bubbles. OK, so there is hope.
Over to the still wines, the first one all garganega: Sassaia 2016, as we said from the vineyard close to the house. 70% were directly pressed, the rest skin-macerated for 2-3 days, then barrelfermented. Because we don't use SO2 tannin and polyphenol from the skin-contact help the wine to stay healthy and live longer. It shows a light golden colour; mature apples, white flowers, ginger (from garganega) and some toast on the nose; it's quite full and very tasty.
The relatively high altitude Pico has for me been a favourite, if I were to pick only one wine. Selected grapes from three relatively high vineyards, Pico 2016 was 50% directly pressed, an equal part had 2-3 days skin-contact. In fact there was also a tiny amount (one barrel, maybe 2%) that had extended skin-contact for 2 1/2 months. -'16 was a good harvest, and it rained at the right moments. The wine showed dark, almost amber; with mature apples, white pepper, ginger, a touch of honey; rich and glyceric in the mouth, with an integrated acidity and an extreme length.
Rosso Masieri 2017 is a young and luscious, fruity and herb-scented red wine from merlot, tokai rosso (grenache) and cabernet sauvignon. See link #1 at the bottom of this post for more.
Passito Monte Sorio 2015 is a recioto style, IgT (though they have a DOCG Recioto too). The garganega was harvested before the other grapes. They were all hung in vertical nets, for 4-5 months to dry. Then there was one week skin-maceration, and fermentation for 2-3 months. More normal is 14% and 150 grams residual sugar, but in this vintage the alcohol is 16% and sugar 76 grams. Some sulfites are added, simply because the wine gets cloudy after 2-3 years because of some protein bindings. Amber colour; on the nose: nuts, some raisin, iodene, lightly oxidezed style; on the palate: long and with a good acidity.
Let's close this chapter with a recommendation from Francesco Maule: Recioto and parmesan cheese: a fantastic combination! (Parmesan, or parmiggiano, is "almost local", as Parma is only  one and a half hours from Verona.)
Davide Vignato
Climbing downhill to the center of the village we find both our next wine people, the two Davides. Vignato is not an uncommon name in Gambellara, and in the short street I ring the doorbell at two other Vignato's houses before the right one stands before me.
Davide is third generation vigneron, so he's born and raised in the village. But he is the first to have organic wines certified as DOC Gambellara. He has 14 hectares of vineyards that are characterized by these mineral soils. He works them organically, with techniques like green manure. Grape varieties are mainly garganega, but also durella, glera, chardonnay and merlot.
In the ancient amphitheater of Monte San Marco
He takes me to the biggest of the two amphitheaters formed by the ancient volcanoes. It's the one in Gambellara, close to his home, the other is in the aforementioned Montebello to the east.
-I want to make organic wine, but I also want clean wine, for me this is important, Davide says. He also believes that the volcanic soil gives a salty, mineral character to the wines. Both these opinions can be backed by the tasting.
Balaltic dark rocks of volcanic origin
Primo Incontro 2016, IgT Veneto: The "first meeting" is a garganega frizzante (light pressure), where the second fermention is catalyzed by some of the dried grapes. The yeasts remain in the bottle, so the "sur lie" technique is employed, with batonnage once a week. -The final bottling was done after 15 months, no SO2, so I prefer to do malo-lactic fermentation, says Davide.
The wine shows a light yellow colour, slightly cloudy; aromas of apples, white flowers and citrus; there is a balanced acidity, a slightly salty, simple, good summer drink.
Cuvée dei Vignato 2013: A spumante metodo classico (high pressure) from 90% durella, and the rest chardonnay, with 40 months on the lees.
Somewhat lighter; green apples, citrus, bread crust; more evident, pungent acidity, long and mineral aftertaste.
Then follow two still whites, both 100% garganega.
El Gian 2016, Gambellara Classico, a tribute to his father Gian Domenico: This wine is from 25 year old vines in the hills. As usual: Natural yeast and only a small quantity SO2. It stayed on the lees in steel tanks for 5 months before bottling.
Light straw colour; green apples, white flowrs, citrus, clean (no tropics); quite mellow in the mouth, but the acidity shines through, and typical for the garganega grape it has a nice bitterness towards the end.
Col Moenia 2016 , Gambellara Classico: This is from 40 years old vines, and the grape selection is stricter. No de-stemming. It stays on the lees for 7 months, and batonnage is carried out once in a while.
Light straw, clear; yellow apple, ginger; full on the palate, more concentration than the previous wine, and more integrated acidity (the harvest was 20 days later), slightly bitter aftertaste.
A general observation can be added here: Garganega has a long cycle, and late picking is normal. Durella is approximately one month earlier, around mid-september.
Regarding the wine styles, at this point it should also be clear that  Vignato's wines are clean, the fruit is a bit more acid and the apple notes are greener. La Biancara is more turbid, obviously unfiltered, plays with oxidation, and the fruit is more yellow and mature.
1950 Merlot 2016, IgT Veneto: -1950 was the year when my father planted the merlot vineyard for this wine, because he realized that he was tired of drinking only white gambellara, says Davide. The pressing is light, and the wine matures in steel tank with occational batonnage.
The colour is ruby with some violet; with aroma of red fruits and some herbs; medium body, soft tannins, quite easy drinking really.
The "picai" technique is still used, bunches hung from the roof to dry
Cal d'Oro 2009: This is a passito wine with mahogany (or dark amber) colour; iodine notes, umami, dried fruits and dates; some tannins, medium sweet (120-30 g), a bit raisiny, and also salt in the finish.
Ca' Ronchi 2007, Passito Rosso: Dark red, a little browning; red berries and forestfruits (morelloes, blackberries), nuts; quite slender, good tannin structure, medium sweet (same as the former), wonderfully balanced by acidity.
Davide Vignato
Davide Spillare
After a sandwich and a coffee in the bar on Gambellara's central square, I climb the labyrinths of the neighbourhood where Davide Spillare has his house and winery, and several of the vineyards are there too. I meet Davide together with Lanfranco Fossà, who helps him with various tasks in the office.
Davide and Lanfranco
A little background: Davide Spillare (his last name should have a stress on the first syllable) was born in 1987.  He went to agronomy school, then worked 4 years for Angiolino Maule, to learn and to gain experience. In 2007 he started on his own. He is third generation. Antonio, his grandfather, worked in real estate, and made wine in the weekends.  Mariano, his father, worked with machines and repair, he made more wine than his father, but he only sold it to the cooperative.
So Davide's project is in a way still young. He owns 4 hectares of vineyards, and has 6 on rent (the latter will come into production from the 2019 vintage). In fact 50% of Davide's production is today sold to Japan. The wines are also found in a handful more countries. I tasted them in London's 40 Maltby Street wine bar.
The annual production is now 20.000 bottles, and will increase to 30.000. Not very much. From Davide's house there is a nice view over the village, and you can easily see the big Zonin winery.
Davide has 5 labels, mostly garganega, except for some durella for sparkling (up to 70 years old), and also some merlot for the red. He employs biodynamic viticulture, and there is almost no technology in the cellar. The old vines are bound up in the pergola system, but for the newer plantings he uses Guyot.
In the plains, at around 200 meters above sea level, there are clayey soils. The rest is mostly volcanic.
In general we could say that after Vignato's clean and clear wines we are now, not surprisingly maybe, back towards the style of Maule's La Biancara. In a way the wines are elegant, with their crisp acidity. But they clearly take place in the natural wine category, without added sulfur, and no filtration or fining, so they also come with a rich mouthfeel and loads of taste.
Here are some short notes from the tasting.
L1 (named after Lumber 1, the lowest rib in the back, that Davide once broke in a tractor accident): It's made from 90% garganega, and 10% durella (only for acidity). The second fermentation was in the bottle. -We don't use yeast, but the moist from the sweet wine. (It rings a bell now from both visits earlier that day.)
The colour is yellow; aromas of yellow apples, light bread; very good acidity
Bianco Crestan 2016: 100% garganega, from the flat area (with less mineral soil).
Straw yellow, aromas of green apples, citrus (lime); quite glyceric, mellow, a nice and simple wine for everyday drinking.
Bianco Rugoli 2016 (12,5%): From the 80 old vineyard that gives name to the next wine, the bushes trained in pergola. Spontaneous fermentation, like all his wines, here in used oak barrels. The first bottle is bretty. Davide says it's from the cork. When the water isn't changed often enough this can happen. The water should be changed for every 100.000 corks.
The nose is more complex than the previous, but maintaining a good acidity and a strong minerality.
Straw yellow; more mature apples, wax, aromatic herbs; smooth yet fresh, fruit all the way (4-5 g/L acidity), slightly bitter aftertaste.
Vecchie Vigne 2016: It had 100% skin-contact for 5 days, then fermented in barrel 7-8 days. 13,5% alcohol.
Golden; more mature apples on the nose, together with pear, honey and nuts (it was a very late harvest); concentrated on the palate, a warmer, richer style, with a salty mineral aftertaste. This wine is still young though, and will open more.
Rosso Giaroni 2016: Merlot at 13,5%.
Dark cherry, me green pepper, red fruits; fruity, bit tannic.
#3 – Gambellara: Maule and the two Davides