Former maths teacher Francesco Carfagna is the owner of the Altura winery on the island of Giglio off the coast of Toscana. It has become a popular tourist destination, but only 600 people are actually living there.
Carfagna has himself revived the former traditions, and makes wines from indigenous grape varieties farmed biodynamically. It's especially the ansonica (sic!) that has seen a revival in the hands of Francesco. As for today he is the only one who bottles his own wine.
This wine was included in a recent tasting of lesser or -for many- not known varieties.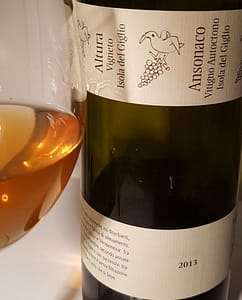 The wine comes under the designation DOC Isola del Giglio. The soil is sandy granite, and the plants from the small vineyard are of various ages (20-80 years). It's spontaneously fermented, aged for up to a year in steel tanks. Unfined and unfiltered. Low-sulphur (less than 30 mg/l).
Ansonaco 2013 (Altura)
Amber colour, slightly cloudy. Strong peel character, smells of plums, bitter almonds, slight barnyard. Full, grapey and tasty. Lots of character and charm.
Price: Medium
Food: Grilled and fried fish, tasty seafood, salads, lightly spicy food, light meat, cheeses (try with mild blue cheese)
Leave a Comment