Here is a prime example of the "new" Rioja, made by Pedro Balda, one of the younger authorities in the field.
Pedro Balda is director of the research department of Vintae, a group that started in La Rioja, but has expanded to many Spanish areas. Pedro is himself from Sonsierra, and after workingr with many wineries of the world, such as Chile's Viña Santa Cruz, the United States' Marimar Estate, and New Zealand's Dry River, he has brought his experience home to Spain.
He is also an academic, earning his doctorate in enology with a thesis discovering two minority varieties which had been recovered in Rioja and triumphing with the wines le makes from his family's vineyards. He is the youngest doctor of enology in Spain, currently professor at the university of Logroño.
He started his personal project in 2008, in his native San Vicente de la Sonsierra. There Pedro works without the addition of sulphites in any of the points of the process. Nor are yeasts, bacteria or any other agent that can accelerate fermentations added. His way of working is simply to let everything happen naturally.
Pedro makes two wines. The most expensive one is Vendimia Seleccionada. This one is called Cosecha, a varietal tempranillo. In the selection priority is given to the smallest clusters with the most intense aromas. The grapes are always hand-harvested, but in the Cosecha they were mechanically destemmed. The extraction is light. He works in the most natural way possible, and no sulfites are added at any stage.
The label is a tribute to the land and his ancestors.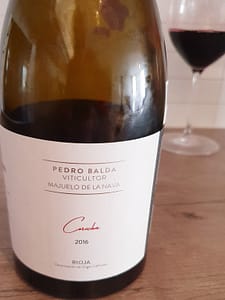 Cosecha 2016 (Pedro Balda)
Dark cherry red. Ripe aromas of black and red fruits (blackberry, cranberry), plums, flowers, ink and a mineral touch. Good volume and concentration, smooth tannins, light cocoa, and a long aftertaste.
Price: High
Leave a Comment