I am in Madrid, because I always start a trip to the central and northern areas of Spain with some days in its grand, magnificent capital that has everything to offer. This week's pick is from the natural wine bar Bendito, that is located inside the multicultural San Fernando market, close to the two hotels where I most often stay when in Madrid.
Vinegrower Julian Ruíz-Villanueva is located in Castilla-La Mancha, in the village Quero (Toledo). His bodega Esencia Rural is named in honour to all those who spend their lives and dedication to the daily work at their farms.
This natural "ancestral" (sparkling) wine is made from the variety airén exclusively. It originates from 38 hectares in the hot inland landscape, with very old vineyards on sandy-calcareous soil. Here there is no irrigation, no chemical treatments, and everything is done by hand. After destemming a maceration is carried out without pressing, so only the virgin juice is used. Fermentation is obviously happening spontaneously with autochtonous yeasts, and bottled without filtration or addition of sulphur, early so it develops its bubbles in the bottle. As a side-step, one time I met Julián at the Fenavin fair in Ciudad Real he showed an airén must that had been fermenting for (…how long was it…?) 3 years. Finally it's put no the market without dégorgement (removing the sediments).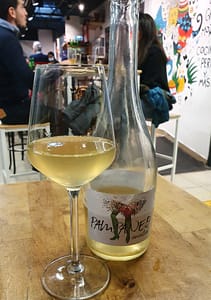 Pampaneo Ancestral 2020 (Esencia Rural)
Light yellow colour, fine bubbles. Citrus (lemon) dominates the aroma, accompanied by pears and flowers. It's a simple wine, lovely and fresh, with an ample lemony acidity and saline finish.
Price: Low
Food: Aperitif, white fish, shellfish, salads. At Bendito it was served with charcuterie.
Leave a Comment