The Olivier Horiot domaine is located in Les Riceys, a commune in Côte des Bar. We are in the southern part of Champagne, and it's an area that has once belonged to Bourgogne. Here in the Aube département the vineyards are more scarce than in central parts of Champagne, and interspersed with forests, waters and farms.
The Horiot family continues to produce wonderful natural wines from biodynamic viticulture, and has by the way also done a great job to recover the region's indigenous grape varieties, like arbane.
Maybe inspired by nearby Bourgogne, the domain separats its different terroirs into distinct cuvées. The result is champagnes with strong individual character.
The name Métisse refers to the fact that this cuvée is made from several different terroirs in the village of Les Riceys. It's a non vintage, made from pinot noir and pinot blanc. It has a minimal addition of sulphites and undergoes neither fining nor filtering.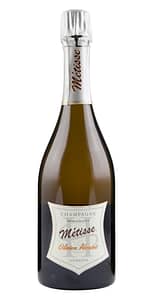 Métisse Pinots Noirs et Blancs Extra Brut (O. Horiot)
Pale yellow, small, delicate bubbles. Aromas of apples, pears, citrus, flowers, brioche and spicy notes. It's fresh and lively on the palate, with a fine-tuned interplay between the autolysis and the fruit. Completely dry, good length.
Price: Medium
Leave a Comment