I am in Veneto. Yesterday I had a wonderful day in Gambellara, Vicenza province, which I will come back to.
This week's wine is from the most important producer in that area. Well, Zonin is a big player indeed. But for an organic, down to earth approach Angiolino Maule has taught and inspired other growers that are just beginning. He also created the VinNatur organization and runs the Villa Favorita fair that brings together producers of the same sort from Italy and abroad.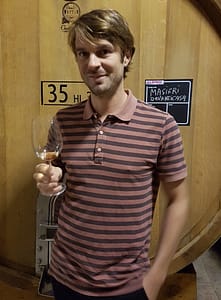 Francesco Maule in front of a Masieri barrel
Gambellara is mainly white wine country, with volcanic soil. But there are some splendid reds made too.
There is also a white Masieri, but here we concentrate on the red version. It's made mainly from merlot, some tai rosso (tocai/cannoneau/grenache), and around 5% is cabernet sauvignon, all fermented with indigenous yeasts in steel tanks.

The vineyards are young, and the cultivation is Guyot. The fermentation is spontaneous with indigenous yeasts, with a 13 days maceration. Minimum sulphur, no filtration.
Masieri Rosso 2017 (Angiolino Maule – La Biancara)
Dark cherry, violet hints. Aroma of cherry and blackberry, herbs, spices. Lightly structured, luscious and delicate, fruit all the way. Just lovely! (2017 is 13,5% alc.)
Price: Low
So far in this series:
Leave a Comment