The red Drago has become my go-to Valpolicella. Last time it was featured here was in this article, where you also get some background.
It originates on the Monte del Drago hill, with a total vineyard area of 8 hectares. The grapes are organically cultivated, and biodynamic techniques are also employed. Corvina accounts for 60%, the rest is corvinone, rondinella and barbera. It has rested 12 months in French oak, which is barely noticeable.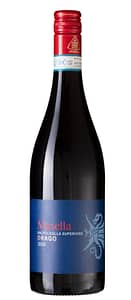 Drago Valpolicella Superiore 2018 (Musella)
Dark red. Aroma of dark and red berries (cherry), some herbs. Lucious, tasty and with an adequate acidity.
Price: Medium/low
Food: Light meat, pasta, salads, antipasti
Leave a Comment