Adelaide Hills is a quite cool region northeast of Adelaide in South Australia. It's varied in terms of soils and expositions, and many of the best vineyards are scattered over large distances.
Ochota is the young couple Amber and Taras Ochota, who started their natural wine project in 2008.
They have a long list of wineries around the globe where they have worked and learned; the Hitching Post winery from the movie Sideways not least. By now they have half a hectare of vineyards of their own, high altitude on quartz and ferrous soil. They also tend an old grenache vineyard in lower McLaren Vale.
The wines are made according to natural methods, some whites with extended skin-contact. This one is more "normal" in that respect, a varietal gewürztraminer bottled with low sulfur values.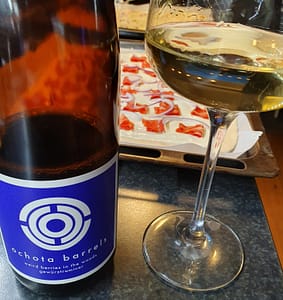 Weird Berries in the Woods Gewürztraminer 2019 (Ochota Barrels)
Light brilliant yellow with green tones. Aroma of white flowers, hay and herbs. Quite full but dry, good acidity with a trace of yellow tomatoes and also some stoney minerality. A stylish wine that strays from the often boring cliché of the grape.
Price: Medium
Food: Fish (both white and red, grilled and cooked), shellfish (crab, prawns), squid, salads, cheese (both creamy and hard, like parmesan), pizzas (especially good with white sauce (two of them pictured, in the making…)
Leave a Comment